Using Tradevine: Bouncing Zombies
"I've been storing and shipping my own stock for years and it's been hard to take time off. With EasyTrade all I need now is my laptop and the internet and I can run my business from anywhere and anytime, safe in the knowledge my stock is being professionally handled and shipped to my customers."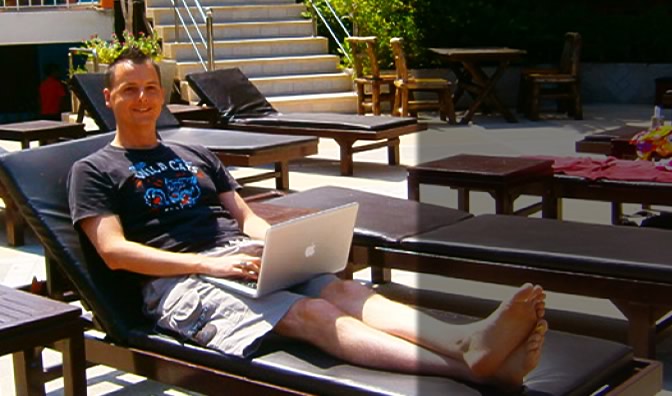 Video game import business 'Bouncing Zombies' thrives with the help of Brightstar and Tradevine combined to create EasyTrade.
Meet Dan – he's among the new breed of young dynamic entrepreneurs, not content with a traditional 9 to 5 job. Dan started his video game import business, Bouncing Zombies, after recognising a gap in the market. Working from his home, Dan filled his spare room with stock and started selling exclusively through Trade Me from September 2009. He initially started out small, importing video games and accessories – something he had a good understanding of. Dan built his business with a reputation for providing the latest games, quality products, good customer service and well-priced items. Through hard work and determination, Dan quickly gained Trade Me's "Top Seller" status and continued to grow his business.
Business grew quickly and while Dan had an excellent understanding of spreadsheets and book keeping, his business expanded to a point where it outgrew his capabilities. Checking customer payments, picking, packing and dispatching the games became a full-time role, limiting Dan's ability to source the latest games, gather market intelligence and answer customer questions.
"I knew I needed help creating a scalable business model that would allow the business to grow while remaining efficient. "
Looking for solutions, Dan posted on the Trade Me community board asking his fellow Top Traders about their understanding and experiences with outsourced fulfillment services.
It is at this time that Dan was introduced to the team at Brightstar, half of the team that, with Tradevine, make up EasyTrade. After a few meetings and a walk through tour of Brightstar's facilities, an agreement was reached between Brightstar and Bouncing Zombies to trial this new business venture as a pilot program. During the set up phase Dan was also interested in systems, and wanted to know if Brightstar knew of alternative solutions available to automate his business. This presented a perfect opportunity for Dan to be introduced to Brightstar's EasyTrade partner, Tradevine. Tradevine's-multi channel ecommerce software solution was a perfect fit for Dan, as it simplified and solved the issues of dealing with orders, payment reconciliations, and receiving address details. Within days, Dan had Tradevine up and running. On the 3rd April 2012 Dan had his stock delivered to Brightstar where it was receipted, checked and put away into storage ready for sale. By the 5th April Dan's orders were already flying out of Brightstar's Distribution Centre.
After some initial speed bumps, things settled down and Brightstar moved onto delivering the next 1436 units (as of 23 July 2012) without a hitch (100% accuracy) as well as hitting key performance indicators, e.g. fulfillment within 24hrs (99. 7%). With Brightstar taking care of his order fulfilment, and Tradevine managing the rest, Dan was able to focus on the important aspects of growing his business.
"EasyTrade allowed me to concentrate on marketing, sourcing stock and more managerial and big picture aspects by fulfilling the logistics function of the business. "
Today, Brightstar also provides two value-added services that are key parts of Dan's business, including:
The application of rating stickers to games as required for compliance by FVLB (Film and Video Labelling Body of NZ).
Checking of customers payments before releasing the order for fulfilment. This is achieved with the customer depositing the money in Dan's bank account and Brightstar having view-only access to Dan's account to confirm payment is received and matches orders in the system.
"Thanks to Brightstar and Tradevine, I was able to make my business mobile and travel overseas. "
Dan was so happy and confident in the service Brightstar was providing that he decided to take his first holiday in five years. Dan is relaxing in Thailand, still doing his sourcing and customer service, knowing his products are still be sent to his customers while he continues to build his reputation as a great and reliable trader with good products and fast delivery.
Daniel
» Check out Bouncing Zombies on Trade Me