Using Tradevine: Bourgeais
"Tradevine was very easy to understand and if I had an issue, Tradevine has an 0800 number you can ring during the day where all the staff are all kind and ready to help you with any problems you have."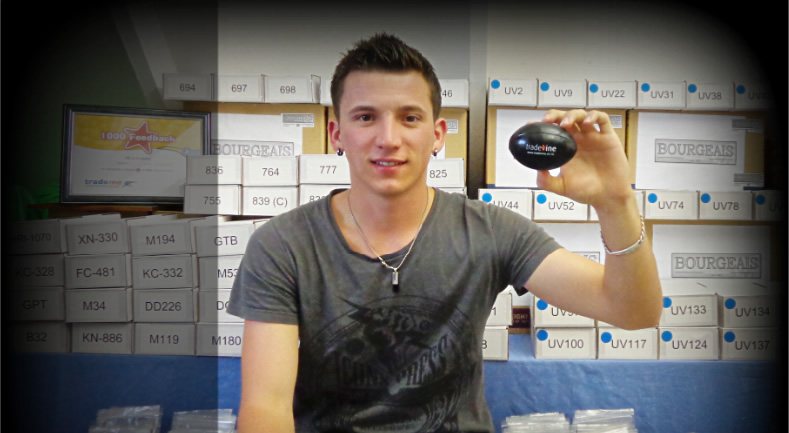 Hello everyone, my name is Johno and I sell full time on Trade Me.
My business started off as a hobby, but I soon realized my hobby had great potential and I wanted to expand so I could quit my full time job and focus on my small operation. In mid-2011 I started researching how to run a successful online business.
I was after a system to help me put on track. A system that made my life easy.
I was approached by Phil from Tradevine in September 2011 before Tradevine was even launched to the public. He offered me the chance to use Tradevine as one of their few Beta Testers.
It was everything I was looking for in a system, and it worked with both Trade Me and Xero (my accounting system). At first I thought it may be too complex, as I was only 21 years old at the time after having left school at the age of 16. But Phil proved me wrong. Tradevine was very easy to understand and if I had an issue, Tradevine has an 0800 number you can ring during the day where the staff are all kind and ready to help you with any problems you have.
When I first started it was really easy to get in touch with a Staff member to help me if I needed a question answered regarding the system. At that time Tradevine was new and there weren't many users, however it's been over a year now and Tradevine has grown a lot. There are many top sellers and new people starting out are using Tradevine, and Tradevine still offers that high quality of Customer Service. They don't treat you as a number - they are there when you need them.
Last month I had my first 6 month GST Returns to do. I was nervous because I was worried my accountant would get confused doing the paperwork using Tradevine and Xero. However I told her about the system and she clicked straight away and did all the paperwork without getting confused. With her 20+ years experience being an accountant for many businesses throughout New Zealand, she has never seen a system so organized and so great that now she's even telling her clients to use Tradevine!
Tradevine saves me A LOT of time. Time is precious when running a business. And of course, time is money.
I'm now 22 years old. I don't run a million dollar business - yet - but it's a goal. I can say that my business has grown a lot within a year due to Tradevine.
I've had a lot of people coming up to me and asking for advice to simplify selling online. My response? "Tradevine".
If you're thinking about starting an online business, or you're running an online business and are after an Inventory System, contact Tradevine straight away. You will never regret it.
Johno Bourgeais