Using Tradevine: Log Splitters
"I knew I needed help creating a scalable business model that would allow the business to grow while remaining efficient.

Really, switching to Tradevine is a no brainer – go Tradevine!"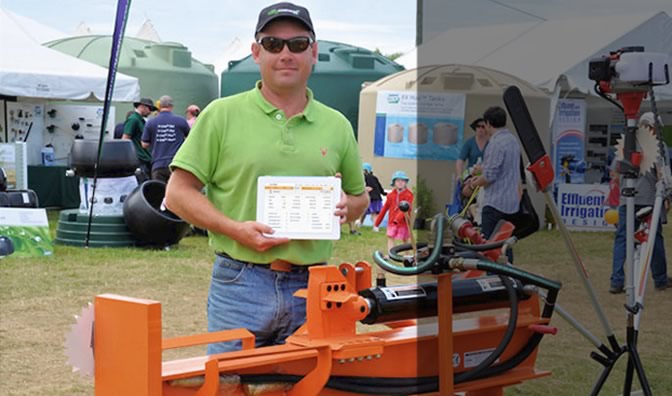 When it comes to retailing, we want our customers to be able to sell anything, any time, anywhere. And so for Craig Love, owner of Log Splitters, Tradevine combined with Xero is a perfect fit.
Craig sells great quality log splitters, chainsaws, hedge trimmers, generators etc as Log Splitters on Trade Me, on-line and at A&P shows. So he needs a business solution that works literally everywhere.
Craig was at the recent Southern Field Days, in Waimumu, with his trusty iPad and tethered mobile. With real-time access to Tradevine and Xero he had access to up to date inventory and all his financials, and could process new sales whilst face-to-face with the customer. He could also keep an eye on his Trade Me listings and his bank account and see what was happening back at base in Blenheim. Being out of the 'office' had never been this easy.
By using Tradevine, Craig can manage his entire business – his sales, purchases, inventory, Trade Me listings, webstore, feedback and questions, and coupled with Xero his accounting. Simple and easy.
As Craig says:
"Time is the most valued asset in my business. Working for myself I have to manage importing of goods, Trade Me Listings, Trade Me orders, accounts, customers, and dispatching of goods. Tradevine is my one stop shop for TOTAL management of my entire business. At a glance I can see our Total sales, profit, and orders to process. What I like is that Tradevine is fully integrated with Xero accounting so no duplication of data is ever needed, it simply creates customer invoices for you.
Since we started using Tradevine our annual turnover is projected to be 300% better than our previous record year!
Tradevine's support is the best I have come across in 12 years working online, they actually help you with any queries you may have. I am looking forward to the future with Tradevine and for what's in store in the coming months ahead.
Really, switching to Tradevine is a no brainer. Go Tradevine!"
Craig Love